As 2017 starts to ramp up, many business owners are starting to look ahead and think about how they are going to grow in 2017.
Of course, it's difficult to think about a growth strategy without also thinking about marketing. But without having the marketing know-how and experience, it's difficult to know how much budget to allocate to marketing spend. Many clients we meet with have not yet defined their marketing budget, so we work with them to identify their growth goals and develop a marketing method that works for their business, their customers and their budget.
The General Rule of Thumb
As a general rule, many government bodies recommend that small businesses spend about 8 per cent of their gross revenue on marketing and advertising if they're doing less than $5 million a year in sales.
According to a Gartner Research study, "companies spent on average 10.2% of their annual 2014 revenue on overall marketing, with 50% of companies planning to increase in 2015 to an average of 10.4%."
CMO also conducted a survey of marketing professionals from all types of firms and here is an overview: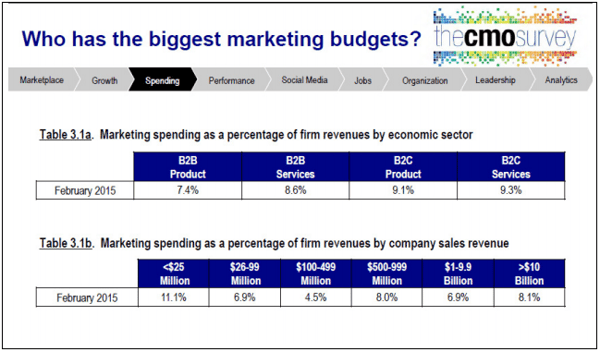 So that's a good starting point, but it's also important to know that every business is different and your marketing strategy (and budget) should be aligned to your growth strategy.
Overall, keep the following things in mind when thinking about your marketing budget:
Total marketing budgets are generally between 7% and 12% of total revenue

B2Cs generally spend more on marketing compared to B2Bs

Smaller companies spend more on marketing as a percentage of their total revenue

More money is being spent on digital, at the expense of traditional advertising channels

Search and Display marketing represent the largest share of digital budget
Taking this data into account can help give you a general idea of how much you should be spending on marketing, and where to apply those investments.
What are you trying to achieve?
Once you have a rough budget in mind, it's important to identify exactly what it is you want to accomplish with marketing. Are you still in start-up mode? Are you established but looking to expand? Perhaps you're just wanting to maintain brand awareness or visibility? Maybe you're launching a new product/service or completely refreshing your brand? Maybe you need to update your customer experience to connect with your customers in new ways (i.e. a mobile strategy).
Every industry and every individual business is unique. So it's also important to take economic factors, the size of your business, your competition, profit margins, and so on into account. Once you have all of that in mind, it provides a good roadmap for developing a unique marketing method that works for you.
What every business should invest in
Regardless of what stage your business is at, it's critical that you have a well thought out marketing plan and strong branding.
Strategy and skills
Some businesses choose to draft their own marketing plan and there are many tools to help you do that. But many businesses choose to hire a marketing expert or agency to help them. The latter is often the better choice because you are less likely to waste precious marketing dollars if you've researched the various options, the costs involved and likely results. An experienced marketer will be able to develop a define your target marketing, carefully craft messages that resonate with that audience and develop a channel strategy that will perform for you. Whether you outsource or hire internally, you need to ensure that your marketing plan gets executed, and executed well.
Tip: For a great resource on whether to hire internally or outsource, read Hiring Internally vs. Outsourcing Marketing: Which is Right For Your Business?
The power of a first impression
"You never get a second chance to make a good first impression." - Will Rogers
Marketing only works if you create an emotional connection with your audience. Why? Because people do judge books by their covers, despite being told not to. According to PsychCentral.com, "New research suggests that first impressions are so powerful that they are more important than fact."
We cannot stress enough how important it is to make a strong first impression both online and offline. Your brand says a lot about your business and it's the first chance you have to "engage" with your potential customers.
Get help with making sure you understand what your brand says about your business and be sure to invest in a powerful corporate identity (i.e. logo, tagline, fonts, colours, etc.) and a website that is optimised for search and conversion.
Spend Smart
Before you just throw out a number for a marketing budget, you need to sit down and see where and how you will be spending your money. Identify which channels get the most traction and, in turn, the highest return on investment (ROI).
A report from Forrester Research shows the estimated allocation of marketing funds offline vs. online and across the digital channels. Here are some conclusions from that report:
In 2016, the average firm was expected to allocate 30% of their marketing budget to online, this rate is expected to grow to 35% by 2019

Search engine marketing will capture the largest share of online spend

Social media investments will continue to grow as an overall share of online spend, but will only represent about 15% of the total online spend

Mobile marketing has grown to a point that it's no longer tracked in the forecast and it's presumed to be considered across all channels
Additionally, you can see in the chart below that different marketing activities can have drastically different results. For example, for every $1 marketers spend on email, the average ROI is $40. Whereas spending $1 on a banner ad may only return $2. (Direct Marketing Association)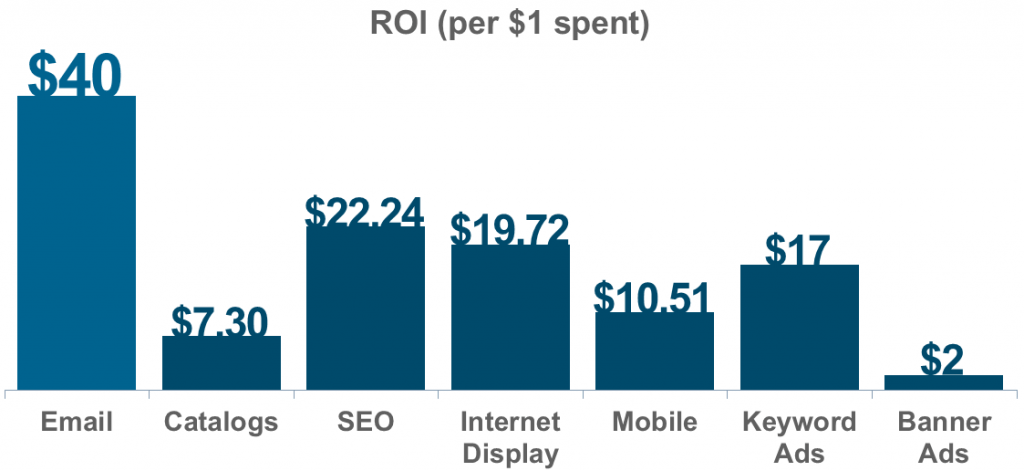 When you're first getting started and developing a marketing method, you need to experiment a bit. See what messaging, images and platforms work for your target audience.
If you do this right, you can develop a marketing method that performs, has a high ROI and can help you achieve your business goals. This takes time, patience and a lot of analysing data. So, if you're up for the task yourself, there are a lot of great free marketing courses online you can take such as:
If you're like most business owners and you don't have the time or couldn't be bothered, you can always hire some marketing nerds like us. We would love to conduct a free digital audit for your business and give you some great recommendations on where to start.
Related Posts